Please see the memorandum that authorizes a variance to allow for the burning of vegetative storm debris generated by the July 20, 2023 storm event. This applies to all Nelson residents.
---
CITY OF NELSON is considering a compensation increase for the Mayor and Council. To be considered at the August 7, 2023 Council meeting at 7:00 p.m. at City Hall, located at 1985 Kennesaw Avenue. As set forth in the Americans with Disabilities Act of 1992, the City of Nelson does not discriminate on the basis of disability, and will assist citizens with special needs if given seven (7) working days advance notice. For information, please call 770-735-2211.
---
Qualifying for candidates shall be held Monday August 21st, 2023 through Friday August 25th, 2023 from 8:30 AM- 4:30 PM. Qualifying will be held at the Pickens County Board of Elections and Registration Office at 3100 Camp Road, Suite B, Jasper GA 30143.
Three (3) City Council Seats- $25 Qualifying Fee
---

2023 Cherokee County Current Tax Digest and 5 Year History of Levy (PDF)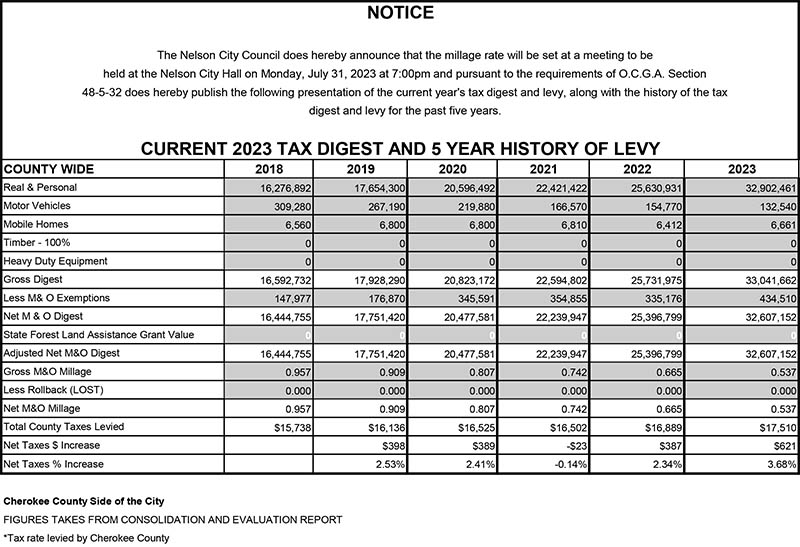 ---
2023 Pickens County Current Tax Digest and 5 Year History of Levy (PDF)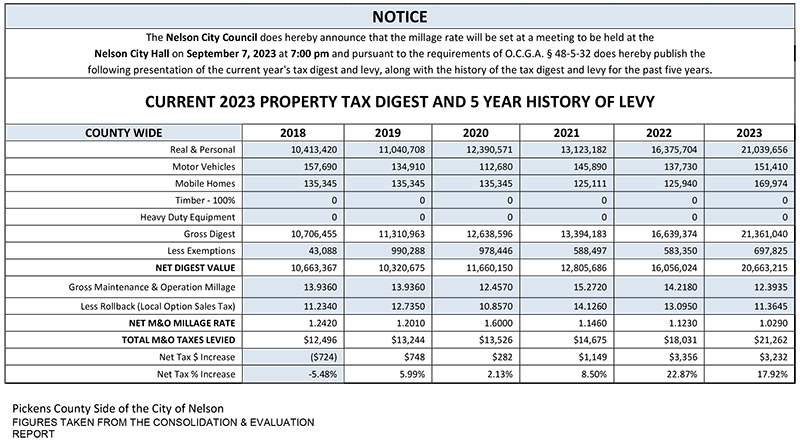 ---

Pickens County Joint Comprehensive Plan 2023-2027 ADOPTED (PDF)

---
Preliminary Drawings for the next phase of the Drainage Project which will include Cherokee Ave. & Hillside St. (PDF)
---
Town Hall Meeting on Master Park Plan
WATCH ON KNOWPICKENS